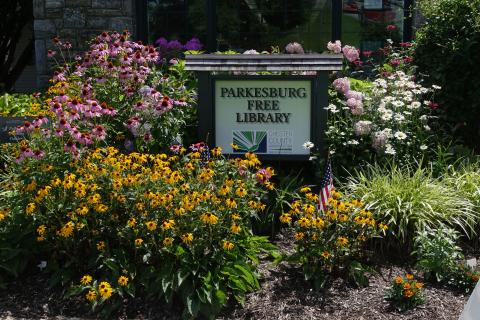 Meet Laman Snyder,
Author of Finding Success in Spite of the Mess, Sept. 9, 10:00 am. Reservations    suggested.
Solace through Writing, Helping to Heal Grief,
Michele DeRossa, Sept. 14, 7:00 pm.  Reservations suggested.
Medicare, Beyond the Basics.
 Adam Krassen, LLC, Sept. 27, 6:30 pm.  Reservations suggested.
Book/Yard/Bake Sale!  
Saturday, Sept. 30, 7:00 am – 1:00 pm.  Now accepting yard sale donations and baked goods.
Credit Reporting for Small Businesses –
Monday, Oct. 2, 3:00 pm. Reservations recommended.
Lanchester Harvest Festival and Powwow –
Saturday, Oct. 7 & Sunday, Oct. 8, 10:00 am-6:00 pm, Hibernia Park, includes library storyteller.
Swing!  Moonlighters Big Band,
Sunday, Oct. 15, 5:00–9:00 pm at White Chimneys Estate, Gap.  Wine Tasting, Catered Dinner, Silent Auction, Dancing, local author Bruce Mowday.  Reservations only.  Tickets available at the library, $40, 2 or more $35 each.
DIY Essential Oils Workshop
– Make your own blend!  Wednesday, Oct. 18, 7:00 pm.
$5 registration, reservations recommended.
New York City Bus Trip,
Nov. 18, $55 reserves your seat. Sign up at the library.  Call for details.
Knitting Group
- Enjoy the company of other knitters with help available!  Bring your work, learn new skills, get help fixing mistakes and have fun!  Every Thursday, 6:30 – 8:00 pm.
Book Sale Corner
- In the Children's Room, open library hours.  Excellent used books, etc.
Free Block Play -
Children's room.  Kids under age 8 must be accompanied by an adult.
Please donate to help your library -
Join with us by providing books, CDs, DVDs, programs and events for our community.  2017 goal is $25,000.
Help the library when you order from Amazon.com -
Go to http://smile.amazon.com – same products, same prices, and sign up to give the library .5% of the purchase.
Read 1,000 books before kindergarten!
 Give kids a great start in school.  Pick up packets at the library.
Please designate the Parkesburg Free Library on your United Way Campaign contribution.
Parkesburg Library, 105 West St, Parkesburg, PA, 610-857-5165, 
Hours: Monday and Thursday 10:00-5:00, Tuesday and Wednesday 10:00-7:00, Friday 10:00-4:00 
(Saturdays 9:00-1:00 June 17-Aug 19). 
Library Board Meetings: 4th Mondays except July, Aug & Dec, 7:00 in the library.